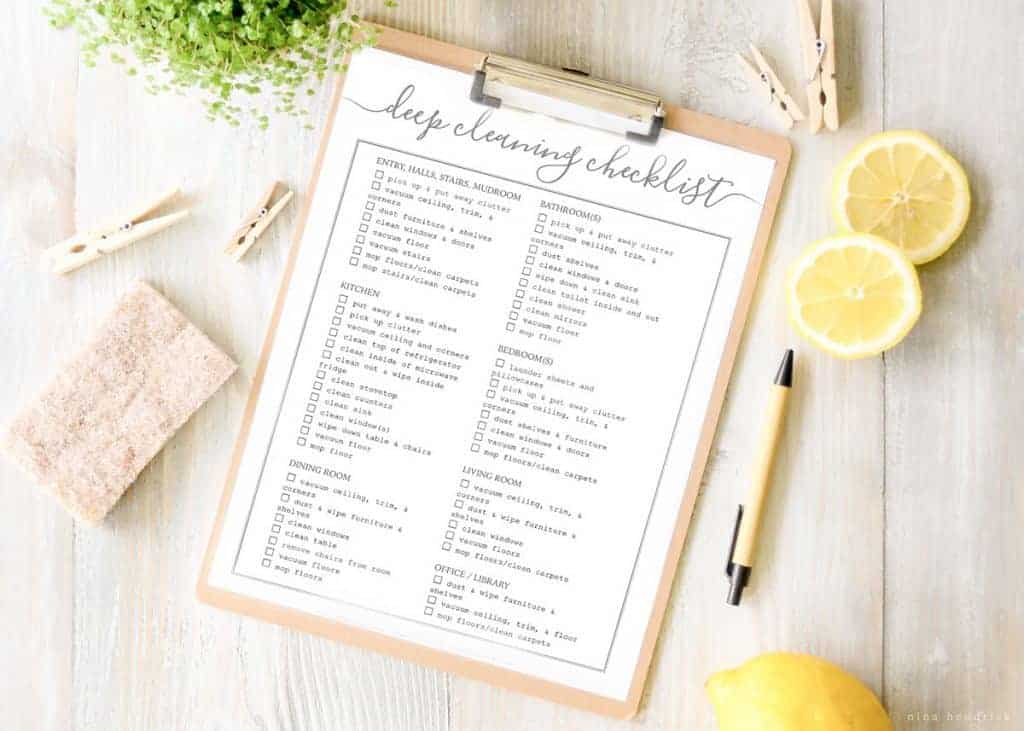 Happy Monday! I hope all of the Moms out there had as wonderful of a Mother's Day as I did last week! I got to sleep in for a little while, I got a beautiful aqua vase from Mack and I have a new Meyer Lemon Tree on the way (hopefully I don't kill this one…)! Now, unfortunately, it's back to reality, and so today I'm going to share my go-to when I need to clean the whole house- my free printable whole house cleaning checklist!
Although it's been beautiful these past few weeks, I did force myself to spend some time inside-  I managed to clean my whole house from top to bottom, including doing all of the laundry, hanging it, or putting it away. For someone with children- or just busy- or a combination of both, this is no simple accomplishment! I was motivated by the fact that it's spring, we have a birthday party coming up (very quickly), and the house had just gotten so far out of control. My next step: Organizing!
But for now, I will share my cleaning method.
Personally, I clean room by room. I know some people tackle one task at a time and do the whole house- like cleaning windows. I have the attention span of a kitten- so this is not possible for me. I will find myself doing something completely different, and forget that I was doing windows. So taking each room one at a time keeps me focused and interested.
I work my way from the mudroom through the house to the basement. I begin with the rooms that get the most use- on the first floor- in case I run out of time.
I start at the top of the room- the ceiling, and dust and vacuum anything that may drop dust onto the floor. I also wipe down surfaces, operating by the same theory. If you clean your floor first, then wipe down your counters, there's a good chance you are going to wipe crumbs onto your newly-cleaned floors- no matter how careful you try to be.
Here is my personal, Printable PDF with my guide to cleaning every room. This is designed specifically for my house, so it may not work perfectly for you, but hopefully some of the rooms will match up!
CLICK HERE FOR YOUR FREE PRINTABLE WHOLE HOUSE CLEANING CHECKLIST: